5HTP 400mg 180 Kapsułek z Ekstraktem z nasion Griffonii suplement diety
Equivalent / Odpowiednik 8:1
Ekstrakt 8:1 czyli wyciąg z 8 jednostek Griffonii na 1 jednostkę 5-htp
Ekstrakt Griffonia Simplicifolia
jest źródłem pochodnej tryptofanu (5-HTP) ważnego neuroprzekaźnika biorącego udział w syntezie serotoniny, oraz wpływa pośrednio na produkcję melatoniny (hormonu odpowiedzialnego za sen).
Jest stosowana w leczeniu depresji i bezczynności.
W suplementacji sportowej wykorzystywana jako neuroprzekaźnik odpowiadający za jakość snu oraz poprawę procesów regeneracyjnych, ponadto jest składnikiem suplementów wspomagających wydzielanie hormonu wzrostu oraz spalaczy tłuszczu.
5-HTP( 5-Hydroxtryptophan)
1 kapsułka zawiera 400 mg wyciagu z griffonii w ekwiwalencie 8:1
Tak podaje się prawidłowo zawartość stężenia substancji w ekstraktach
NIE ZAWIERA SZTUCZNYCH SKŁADNIKÓW
180 KAPSUŁEK  W MAKSYMALNIE SILNEJ DAWCE - ZAPAS NA PÓŁ ROKU
UWAGI DOTYCZĄCE SPOŻYCIA:
-sugerowana dawka 1 kapsułka dziennie z wodą i jedzeniem, jak zalecone przez lekarza. Nie przekraczać zalecanej dawki.
-nie zalecana poniżej 18 roku życia
-nie zalecana dla kobiet w ciąży lub karmiących, chyba, że za zgodą lekarza
Produkt nowy, zapieczętowany, z długą datą przydatności do spożycia.
DLA WEGAN I WEGETARIAN
WOLNA OD GMO
WYSOKO - PRZYSWAJALNA FORMA
Data ważności: 03/2024
What is 5-HTP?
5-Hydroxytryptophan (5-HTP) is an amino acid that your body naturally produces from tryptophan which is used by the body to produce serotonin. 5HTP cannot be obtained through diet. Our supplement is sourced from the seed pods of the African shrub Griffonia simplicifolia offering you an all natural supplementation with no hidden added ingredients.
Our maximum strength 5-HTP supplement offers FOUR TIMES the strength of a regular 5HTP supplement. Our one a day formulation provides 400mg of Griffonia Seed Extract  - 5-HTP per easy to swallow capsule. You will benefit the maximum dosage available from just one capsule.
HIGHEST QUALITY ALL NATURAL INGREDIENTS - Our 5-HTP capsules offer an all natural way to take 5-HTP. We carefully extract our supplement from Griffonia simplicifolia seeds which are naturally abundant in the amino acid. You can also be assured that we never add fillers, artificial flavourings, colourings or stabilisers to our products. Our capsules are 100% vegan friendly (no gelatine here!) and free from allergens including lactose, gluten and any GMO ingredients.
GREAT VALUE & 6 MONTH'S SUPPLY - We offer an incredible 180 capsules per bottle each containing 400mg of high strength Griffonia Seed Extract (50mg of pure 5HTP) . We offer you UNBEATABLE VALUE & PERFORMANCE keeping you replenished for a full 6 months.
TOTAL PEACE OF MIND WITH OUR UK MADE PRODUCT - All our products are made in the UK to current GMP standards. We ensure all our products meet stringent UK/EU legislation to maintain a high level of health and safety standards. We provide a genuine quality assurance which is fully supported by our 100% satisfaction guarantee or your money back.
WE CARE - At Nu U Nutrition we are dedicated to not only providing you with premium nutritional supplements derived from the purest sourced ingredients, but we are also committed to providing YOU with the highest level of customer service possible. We are mindful to ensure all of our products are ethically sourced and that we donate a proportion of each sale to charitable causes.
---
Why buy Nu U Maximum Strength 5-HTP Tablets?
STRONGER - Our 400mg Griffonia Seed Extract 5-HTP capsules are 4 TIMES STRONGER than most average 5HTP supplements, giving you a maximum strength supplement at the same cost.
EASY TO TAKE - Our small, easy to swallow capsules are packed with high strength 5-HTP meaning you need to take less capsules than weaker varieties for the same effect.
6 MONTH'S SUPPLY - Amazing value, with one order you have all your needs covered for a full 6 months!
UK PRODUCED - Produced to the highest manufacturing standards in the world in GMP facilities. Our whole process is in the UK from making the supplement to bottling it, giving you the ultimate peace of mind.
100% MONEY BACK GUARANTEE - No questions asked, feel better or your money back.
---
PRODUCT INFORMATION
DIRECTIONS FOR USE: 
Take one capsule daily with a glass of water and preferably with a meal, or as otherwise directed by a healthcare professional.
NUTRITIONAL INFORMATION:
NUTRITIONAL INFORMATION

One capsule typically provides:
Amount per Serving
%NRV*
Griffonia seed extract 51.5 mg
(dry plant equivalent 400 mg)
of which:
5-HTP
400 mg


50 mg
**


**
* NRV - Nutrient Reference Value
** Nutrient Reference Value Not Established
INGREDIENTS:
Acidity regulator (Dicalcium phosphate), Bulking agent (Microcrystalline cellulose), Vegetable capsule shell [Glazing agent (Hydroxypropyl methylcellulose)], Griffonia seed extract (Griffonia simplicifolia), Anti-caking agent (Fatty acids, Silicon dioxide).
CAUTION:
Do not exceed the recommended daily intake.
Not suitable for young children.
Suitable for vegetarians and vegans.
Always consult your healthcare professional before taking any food supplements, especially if you are taking medication or have an existing medical condition.
This product is not recommended for pregnant or lactating women, or those taking antidepressants.
Food supplements should not be used as a substitute for a varied and balanced diet and healthy lifestyle.
Undesired effects from this supplement are rare. Please discontinue use and contact your healthcare professional immediately in the event of an adverse reaction.
Klienci, którzy kupili ten produkt wybrali również...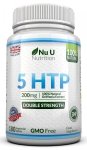 Zawartość opakowania: 180
Cena jednostkowa: 0.78 PLN